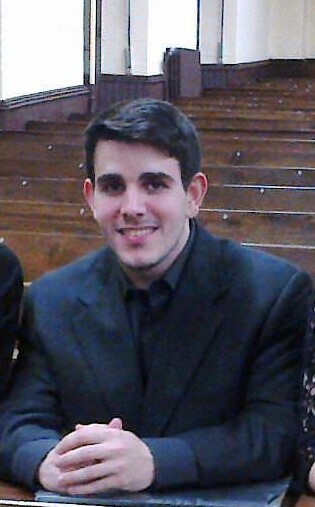 Alejandro Wolfgang Espigares del Castillo nace en 1992 en Granada. Estudia canto en el Conservatorio "Ángel Barrios" de Granada, complementando su formación con estudios de armonía y composición. Trabaja técnica en dirección coral con los maestros Albert Alcaraz, Lluis Vila, José Palomares y Marco Antonio García de Paz, entre otros.
Graduado en Maestro en Educación Primaria, con especialidad en Educación Musical, por la Universidad de Granada, complementa su formación con el Máster en Investigacion e Innovación en el Currículum y Formación. Realiza diversas publicaciones en el campo de la educación musical infantil y el folclore granadino.
A los 14 años, compone su primera obra, siendo algunas estrenadas en lugares como Andalucía, Navarra o Galicia dentro de la geografía española, o en el extranjero en países como Bélgica o Italia. Recibe encargos de obras desde España y Holanda. Forma parte como jurado en la XXXVII edición del Certamen de Nanas y Villancicos "Villa de Rojales". Ha sido invitado como director apoyo en algunas agrupaciones vocales de la provincia de Granada. Desde los 15 años, ha dirigido y fundado numerosas agrupaciones, fruto de la inquietud musical de la que hace alarde. Actualmente, dirige la Academia Vocal de Granada.
Alejandro Wolfgang Espigares del Castillo was born in 1992 in Granada. He studies singing at the Conservatory "Angel Barrios" of Granada. He complements his training with harmony studies. He works in choral conducting technique with teachers Albert Alcaraz. Lluis Vila, José Palomares, Marco Antonio García de Paz and others.
He is graduated in Teacher, with music specialty, in Elementary Education by the University of Granada. After completion of a master's degree in educational research, he carries out some publications in the field of child education and Andalusian folk music.
He started composing at the age of 14. Some works have been premiered in Andalusia, Navarra, and Galicia in Spain, and in other countries such as Belgium or Italy. He has been invited as a conductor in some vocal groups of the province of Granada. Since his 15 years, he has conducted and funded a lot of groups. He is part of the jury in the National Contest of Carols and Lullabies "Villa de Rojales" in 2015. He currently conducts the choir Academia Vocal de Granada.